Many people dream of starting their blog with no money.
With how much free content is out there, it seems like an easy thing to do.
However, if you are in a situation where you have no money and need to start a blog without spending any cash, how can you make this happen?
In this article, we will discuss how to start a blog with no money – the tips and tricks that might be helpful for beginners!
Go to WordPress.com NOT WordPress.org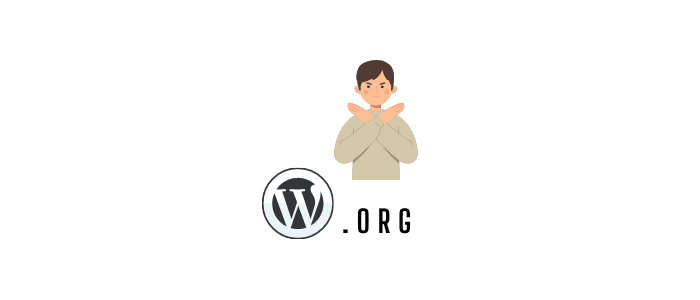 WordPress is the best place to start a free blog because, with few exceptions, it has been praised for being as robust and user-friendly as paid versions. That said, there are some things that you need to know before getting started.
For instance: The first step of creating your new WordPress account starts by heading over to their homepage at WordPresscom. From the bottom of this page, select "Start With Free" from all options available so you can get started right away!
WordPress.com VS WordPress.org
I should explain the difference between the two.
WordPress.com is a free, open-source blogging platform that has made it easy for new bloggers to get started. It's fast and reliable with beautiful templates.
In addition, the free version of WordPress allows users to pay for certain features like themes or plugins to expand the usefulness and functionality of their blog without breaking from its overall structure as a 100% pro bono resource.
WordPress.org is where bloggers go when they want to get serious about running a business and use the WordPress content management system (CMS). With this version of WordPress, users own their copy of it!
While all these features are available on other website platforms like Wix or Weebly too- those sites don't offer ownership over your site's CMS as an option in most cases– which can be very valuable if you're blogging professionally with any success at all.
The obvious difference is that you have to pay for hosting with wordpress.org, and it can be expensive if you're looking for a lot of bandwidth or storage. However, your blog posts are also more likely to rank higher in Google search results than those on other platforms with this CMS.
Themes
The second step of setting up your WordPress blog will be choosing a theme. Dozens of beautiful free themes are available for you to choose from, but it's best to opt for one that features clean and simple content to distract readers from the important information in your posts. Plus, even if you pick out a theme and decide later that it doesn't suit what you're looking for, switching is easy!
One thing I love about using WP is how many great themes there are because they can help beautify our blogs while also making them functional with intuitive navigation tools like dropdown menus or slider bars where people can scroll through all the latest updates on their favorite topics without having to scour every post individually – which saves time!
Domain
Choosing the right domain name can be tricky, but it's one of those things that you have to get used to. You may want something straightforward like your personal name or a word related to what you blog about.
One great thing about WordPress.com is that you get a free domain name- your blog will be accessible at http://yourname.wordpress.com! But, of course, if you want to drop the ".wordpress," there's a price to pay.
If you're like me and want to start a professional-looking website, click on this free guide to starting a blog.
Free plan
The free WordPress.com plan is great for new bloggers who want to build a following and solidify their brand with minimal cost involved.
It also offers the freedom of publishing content, building followership, and customizing your blog's appearance without being bound by restrictive features that many premium plans offer.
If you're starting as a blogger or are unsure if blogging will be right for you long-term, this is probably the best choice since it doesn't require any financial investment from start-up costs through monthly payments like some other more advanced paid versions.
Create account
New bloggers are often overwhelmed by the process of creating a blog. Luckily, WordPress makes it simple to get started, and they do all the heavy lifting for you!
The first step is entering your email address and choosing a username with an account password. You can use this same email as long as it's not already taken or if there's any confusion about who owns that domain name (email).
Once everything has been entered into these fields, click on "Create Your Site." Now be prepared because yet again, another window will pop up asking for more information like category names—all straightforward stuff though, so don't worry too much: enter three categories–and tags that describe what type of content you'll post.
Personalize your blog
From your new home screen, you can choose the WordPress icon in the upper left-hand corner. This will allow you to view your blog stats, change your themes, configure sharing settings for social media sites like Facebook and Twitter – as well as add a domain name or purchase one of their many gorgeous designs created by our professional designers.
Publish your first blog post
Customize your blog to be the perfect place for you by changing out themes and colors, adding widgets that will allow you to share all of your favorite things with others from their dashboard, or creating a custom template to give it an aesthetic that is uniquely yours!
Once everything is set up just as it should be on this site, publishing can begin. From the sidebar on any page, select "publish," then click "add a new post." On this screen, enter text into whichever fields are necessary depending on what type of content you would like published first-hand on your website.
Conclusion
There are other free platforms you can use to start a blog without money. But, to me, wordpress.com has more bells and whistles for a free CMS.
By all means, choose whichever suits you. Whether it is a free blog platform or the more time-consuming route of setting up your domain and hosting service, you can have an online space that belongs to you!
When you're ready to start building an online empire, do it the right way by reading our free guide to creating a successful blog.
---
As a dedicated SEO professional, I help businesses improve their online visibility and attract more customers through search engine optimization. Whether you're a small local business or a large corporation, I can help improve your search rankings, drive more traffic to your website, and ultimately grow your business.

Christian Tanobey
---