What is a social media blogger?
A social media blogger spends their time writing on social media platforms such as Facebook, Instagram, Tumblr, and others.
A social media blogger crafts images and words to engage with followers to increase readership and fan base.
That's my definition of a social media blogger. And the following is how I came up with that…
What is a social media?
It gets easier to define a social media blogger if we break them down. Let's start with social media.
The following is a definition of social media:
websites and software programs used for social networking
social media sites such as Facebook and Twitter
Companies need to invest in social media to make it work for them.
Social media are changing the way people communicate, work, and shop.
[source: Social media definition by Oxford Learners Dictionary]
What is a blogger?
Now, what's a blogger?
A great example is me. But, let's look at the official definition:
​a person who writes a blog
[souce: Blogger definition by Oxford Learners]
A person who writes a blog. Again, me.
To those who don't know what a blog is, let me explain.
A blog is a collection of articles or pages on the world wide web, much like this website. Blogzn.com is a blog about making money with blogging.
Social media + blogger
Social media is a website used for social networking, and a blogger is a person who writes blogs or articles.
Technically, social media can be a blog. However, with the advent of My Space, Friendster, Facebook, Instagram, Youtube, a blog is less likely to be considered as social media.
Ask anyone who was born after the year 2000 this question: Is blog a social media?[link}
Most of them, if not everyone, will tell you no.
Social media today
Many won't consider blogs as social media today.
So, when someone asks about social media bloggers.
Catering for modern times, a social media blogger is writing on social media platforms such as Facebook, Instagram, Pinterest, or Medium.
Which social media platform is best for a blogger?
If you love to write instead of taking selfies and talking endlessly in front of a camera, then these social media platforms are for you:
Facebook
Instagram
Twitter
Medium
Quora
Facebook
Do me a favor, call a friend right now, and ask to add you on Facebook.
Or even better, ask your grandparents.
You will likely get a friend notification in seconds after asking.
Facebook is where everyone hangs out nowadays to catch up with friends and family.
It's different a decade ago when Facebook was still brand new to the public in 2006.
However, after Facebook's creation, millions of users joined yearly.
According to Statista, there were 1M users in 2004. By 2020, there are over 2.7B users worldwide.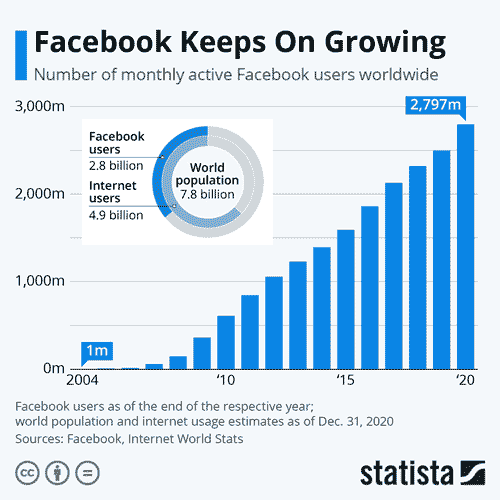 Half of the world's population are on Facebook. And, it's still growing.
There's a good chance that your target audience is on Facebook.
Prioritizing Facebook could prove beneficial when growing your social media presence.
Instagram
Instagram started as a social media for photographers. Instagram was predominantly for showing off photos.
But, it has evolved since Facebook acquired it for $1B. A shocking number back then, but Instagram is making $20B annually for Facebook.
Instagram is great for blogging because it allows you many characters to tell your story in a single post.
But, everyone is on Instagram only to look at photos, you say?
You'd be surprised at how many people read the written text in an Instagram post.
A picture says a thousand words.
But rather than spending hours decrypting the photo, writing it down tells the reader the real story.
No matter what niche you're in, you can blog on Instagram because there are almost 1B users globally. And Instagram users are forecasted to reach over 1.2B in 2023.
Instagram is a good social media platform for travel, health, fitness, food, or relationships. However, as I mentioned, you can blog about any niche on Instagram, and you'll get people who will read your blurbs.
Twitter
Twitter may not be for everyone. Twitter is where you can engage with the world.
You can share your photos and a bit of text and not respond at all.
But, Twitter works wonders when you are conversing with others.
You can search a topic and drop your 2cents.
Share your knowledge, have a bit of banter, and network.
You'll grow your followers when you know what you are talking about.
And Emarket expected the number of Twitter users would grow 8.4% this year to 314.9 million, much higher than their pre-pandemic forecast.
Medium
Medium is like your own website, but not really.
You can write posts and publish them to share with the world.
And, you get paid.
The pros for Medium are that there are already users browsing the platform. You don't have to pay for the running costs of a website. And, of course, you get incentivized for your effort.
However, here are the cons.
Your earnings aren't great. You can't put ads. And you are limited to what you can do compared to owning your domain.
But don't blog on Medium to earn money. Blog on medium for brand building.
Like most social media platforms, use them to gain awareness of your products and services.
Medium is also growing fast in its user base, so start getting some followers today by sharing something about you.
Quora
Quora is more of a Q&A forum.
People ask questions, and you answer them.
Again, you can use this social media platform to build your credibility and trust.
When people read your replies to questions that show your expertise, your cred goes up as well as your brand.
Conclusion
As a blogger, there is hardly any time to blog on websites other than your own.
But, if you're a social media blogger, that is where you blog most of the time.
I don't recommend wasting your time and effort blogging on platforms you don't own.
There will come a time when Facebook won't be number one.
Just like it did to MySpace. Users dumped MySpace for the new and better app called Facebook.
If Facebook stays complacent and does not innovate, it will lose the top spot and become Friendster. Heard of Friendster? No? I guess I'm too old.
When Facebook gets obliterated, what will happen to the blogs you've spent hours on editing? They will all go kaput!
So, start your blog and get rewarded even more. The following link is where to start: how to start a blog that makes money on autopilot.
I suggest blogging on social media only to reach people interested in your products or services.
These are the platforms that I mainly use to blog on social media to boost my brand:
Facebook
Instagram
Twitter
Medium
Quora
There are more, but my time is limited.
Choose one or two or five social media to blog on to build a brand.
---
As a dedicated SEO professional, I help businesses improve their online visibility and attract more customers through search engine optimization. Whether you're a small local business or a large corporation, I can help improve your search rankings, drive more traffic to your website, and ultimately grow your business.

Christian Tanobey
---