If you want 300+ generic how to get ideas for a blog post advice, you clicked on the wrong article.
That's not what you'll get here.
What you'll get are blog post ideas that will actually drive traffic to your website.
You'll know the tools I use and my process into coming up with a blog post idea for any industry.
Whether it's food, travel, health, or an e-commerce store, you can use this for any business.
How to get ideas for a blog post
This is how I come up with over 1000 blog posts and counting.
You must plan your content right from the start, so you don't write the same thing repeatedly.
There are two ways you can come up with ideas for a blog post. Both are free, but one is tedious, and the other is quick and fast!
Other bloggers won't share this with you because it's their bread and butter. When you learn keyword research, you'll never run out of topics to write.
What is keyword research?
Keyword research can help you identify what topics your audience cares about.
By researching keywords with a high volume of searches per month, you'll find out how popular they are among your readership.
You can use these topics to create content and then target the corresponding keywords using SEO tools like SEMRUSH Content Marketing Platform.
Disclosure: We partner with awesome companies to bring you the best deals possible. And when you purchase from the following links, we earn a commission at no cost to you.
Click on the following to Plan, Write and Analyze Content in One Place! The best part is that it's free to use.
This will make it easier for Google's algorithms to rank them higher in search results over time.
Option one Google search blog post topic research
What did you type to get this article?
Something like:
How to get ideas for a blog post?
Ideas for a blog post?
Topic ideas for a blog?
Blog post ideas?
Without using SEMRUSH or any other keyword tool, I can find out what people search for using Google search.
Say I want to know how to peel a mango because I was born yesterday. I would type peel mango.
But notice what happens after typing "peel mango."
Now you have other ideas about what other people are looking for. And you can come up with a good topic using only one keyword.
What if you add "a" after "peel mango"? You get different suggestions of what others are looking for as well.
Replace the "a" in "peel mango a" with a "b" this time. The same thing will happen. You'll get other suggestions.
You keep doing the same thing repeatedly until you come up with a slew of topics for your blog.
This method can be tedious and time-consuming. But, it's free and effective at coming up with blog post ideas.
SEMRUSH Topic Research
Whether you're looking to write about the latest trends or discuss a big topic, SEMRUSH's Topic Research tool can help.
With just one click of your mouse, type in any word, and it will do all the work for you!
For instance, if you want to target people from New York City who speak Spanish – perfecto!
You'll get dozens of blog post ideas for Spanish-speaking New Yorkers.
So, let's use the content ideation tool to look up what you might write about if your topic was "dog food."
After a few moments of pondering, Topic Research will provide an analysis and expandable cards containing relevant subtopics.
You can prioritize results by:
Volume
Difficulty
Topic efficiency
By sorting your content ideas by trending topics, you can see what is becoming popular recently and understand which subtopics to focus on. This means that the number of articles about these subjects is growing, so it could be an excellent opportunity for you to capitalize on this trend.
You can specify your Domain to see if it has some of the topics covered already. You need to enter your Domain into an input field, then hit "Get content ideas," and the report will generate a list with Topic Cards that are green-colored – this means they're included on their site too.
This could be useful for checking out competitors' topic coverage and adjusting yours accordingly.
Mind maps are a great way to visualize information and make it easier for you as the viewer. Switching from list mode allows you quick access to see what's happening in each section of your plan: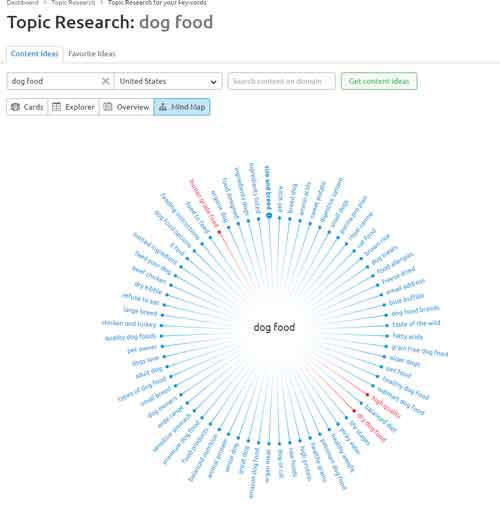 The Explorer view allows you to see your content ideas in the form of subtopics, Facebook engagement, backlinks, and total engagement. You can also see what's trending with Overview that shows top headlines for ten topics along with related searches.
Headlines
The top ten most prominent and resonant titles are prioritized by the number of backlinks each page has received, which you can see in a bullhorn near the headline; for landings with both high resonance and many trafficked pages, an icon will be painted green to indicate this status.
Medium-trafficked sites are given blue or light blue icons depending on their resilience level, while rarely mentioned landing pages have greyed-out logos next to them at right below those headlines that stand out from others because they're clicked more often than average.
Questions people ask
You should look up typical questions people ask about your topic.
Clicking on the Cards view, you can sort out questions with specific question words if you want to adjust your pieces of content for particular search intent.
With the list-icon, it is the same as the Headlines section. Choose the lines you love and add them to your Favorite Ideas.
Related searches
When you are trying to develop content ideas, it might be helpful to look at the topics people frequently search for. This can help reveal user intent and create more relevant content that readers will enjoy! You could also try regenerating these suggestions by browsing related keywords in your topic research tool.
Try SEMRUSH Content Planner For FREE!
Conclusion
That's how I've been coming up with ideas for a blog post fast.
Doing Keyword research on Google may be tedious, but it's still a great way to come up with blog post topics for free.
However, SEMRUSH does things a little quicker with just a type and click of a button. And voila! You'll have an enormous amount of content ideas to use for your blog.
Best of all, you can use it for free!
If you want to start a successful blog, read this how to start a blog guide to avoid any mistakes.
No money? No problems. You can get started for free too.
---
As a dedicated SEO professional, I help businesses improve their online visibility and attract more customers through search engine optimization. Whether you're a small local business or a large corporation, I can help improve your search rankings, drive more traffic to your website, and ultimately grow your business.

Christian Tanobey
---